Christmas is upon us … ho! ho! ho! Merry Christmas everybody!  Tis the season, so Matt has a new Christmas Song for you to download and use in your classes: Merry Christmas!  It's a play-like song with speaking, actions and a matching picture book!  There are a few more resources discussed that are available for download from MES.  You can find all those here, MES Christmas, if you are interested.
This week's show is about motivating your students.  Matt goes over his three keys for motivation your students and Mark comments and adds two more areas to think about in your lessons.
self motivation
when to encourage and when to challenge
setting up the right classroom environment
choosing an appropriate theme and format
using testing to motivate
If you have any other tips or advice for other teachers out there about motivating students, we'd love to hear from you.  Please post your comments here or over on the ESL Teacher Talk forums!
Game of the Week: the Knock Out Race
This is a new board game from Tools for Educators that you can completely customize with images, text only or a mixture of both.  It's different than most board games out there in that it's a loop.  So you can practice your content several times and even increase the difficulty or add new tasks with the same content.  It has been a big success in my classes and I hope your students enjoy it!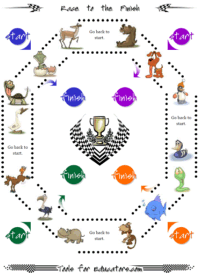 Thanks for listening!